"In Christian homeschooling, worldview teaching means passing on to children biblical views of important matters in life and society.  Some parents may think that children will 'catch' their views, so they do not specifically teach them.  But no, children do not catch much of this.  Some body has to explain why abortion is wrong or how communism is not biblical.  Such topics are easier to handle in homeschooling families than in families where children spend a great deal of time learning their values from non-Christian peers." 
– Dr. Ruth Beechick, Chapter Four, A Biblical Home Education
Worldview is quite a buzzword these days.  It even elicits camps, conferences, and entire courses devoted to this topic of worldview.  Although I think worldview is important, I also believe that teaching worldview as a separate and individual topic is not enough.  It does not adequately integrate Biblical principles within the subjects we are teaching our students.  As Dr. Beechick says, "Teaching these views requires awareness on your part so you can take advantage of opportune moments when they come along."
Chapter Four refers to a quote by Dr. John MacArthur in which he states, "Biblical Worldview, Christian Worldview. I never had that growing up.  My parents just taught me the Bible and I saw the world through the Bible."  He suggests that our students need to know where to find protection from various worldly influences and believes that the way to give them that protection is simply by teaching them the principles found in Scripture.
In describing the book Think Biblically:  Recovering a Christian Worldview, MacArthur states, "All it is, is God on this topic or that topic or the other topic."  In other words, a Christian or Biblical worldview is based on what God says about that particular topic.  Again, this would reinforce what Dr. Beechick has been saying since the beginning of this book.  It re-emphasizes the importance of seeing all of life, all topics, all subjects through the lens of Scripture.  Dr. Beechick recommends the book, Think Biblically: Recovering a Christians Worldview, as a possible book to be part of your home school reading.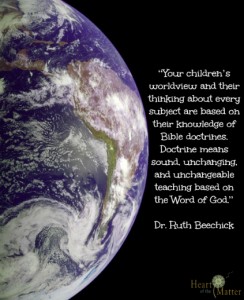 Throughout the remainder of the chapter, Dr. Beechick not only deals with the following topics but gives teaching suggestions as well.
Evolution
Religions
Government and Politics
Family and Society
All of these areas should demonstrate an outgrowth of a Biblical worldview.  However, I was disappointed to not see any mention of a Biblical worldview of the arts.  The arts and arts related media are such a powerful force in today's society and yet, most worldview curriculums and worldview courses barely touch on this topic.  Those to whom God has given talent and skill in the arts should have creative output that is a reflection of Him.  For some reason it is hard to find a worldview "curriculum" that includes the arts.  OH….how I wish I could sit across from Dr. Beechick and ask her question in this area.  She talks about the arts in her book, Heart and Mind, and from what she writes in that book, I can tell she had great wisdom and knowledge in that area.
Dr. Beechick's chapter on "worldview" is so useful for parents wishing to provide their students with a firm Biblical foundation and Scriptural lens through which to view the world and their lives.  I encourage you to get a copy of her book A Biblical Home Education and read it, cover to cover!