I love homeschooling my boys.  We have many fun days and enjoying spending time with each other.  But truth be told every day is not a good homeschool day.  Just because I feel called to homeschool doesn't mean that I do it with joy everyday.   I know that I should and I would love to but sometimes I turn into the green-eyed-homeschool-monster.
my worst homeschool day
I remember clearly one of our worst days of homeschooling. It ended with all of us in tears, me exhausted and out of breath from screaming and my boys just completely miserable.  I shared before how my oldest struggled with math so maybe it will be no surprise to hear that it was math lesson that sent me over the edge. I ran out of patience, lost my temper and used my words to hurt my sweet boy.  And no one was safe, my little guy got an earful simply for walking into the room to see what was going on.
I wish I could say that this was the only worst homeschool day we've had but sadly I cannot. We had many in the last three years.  It's not something that I'm proud to admit but it's something that must be shared. For a long time I felt shame about my green-eyed monster tendencies. I would hide the fact that I was struggling for fear of being judged.  Mom, Dad if you are feeling how I felt on those days don't hide, reach out for help.
redeeming my worst homeschool day
As horrible as those awful days were there is hope in redemption.  That first day that I shared with you was bad but I learned the importance of redeeming moments and days where I completely blow it.
Pray:  Take a family time out. Put the schoolwork away and go to a quite place or your prayer closet. Pour your heart out to God.
Ask for forgiveness: Once you've taken the time to talk to God it's time to go and talk with your children. Admit that you were wrong and ask them to forgive you.
Do something fun:  Once all that hard stuff is over go to do something really fun with your children. Have ice cream for lunch or go to a park and just relax and have fun. Have an impromptu movie night or afternoon
The important thing when redeem your awful day is to end on a positive note.  Let your children know that you love them and enjoy being home with them.
taming the beast
The most important thing that I have learned from my horrible days is how to avoid them. First off I realized that the reason I was turning into the green eyed monster so often was homeschool burnout.  I was overwhelmed, my boys were overwhelmed and what really needed was to take a step back to relax and regroup.
I also had to learn to set realistic expectations for my boys. I was so worried about looking like a failure that I was pushing my oldest son too hard.  I was missing something really important that was causing him to struggle with math.  When I started setting realistic expectations for my boys I found myself less frustrated during our school time.
Something else that really helps is keeping things simple when it comes to school. I am a recovering curriculum junkie. I was trying to do too much at one time with my boys. I was stuck in the "but I paid for it we must use it" mindset. After taking some time to look at what we were doing I was able to see that a lot of it could wait for another year or just needed to go altogether.  And this allowed us more time for breaks and fun stuff.
Have you ever turned into the green-eyed homeschool monster? How did you change for the better?
LaToya Edwards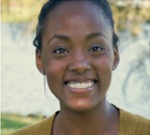 LaToya Edwards is a certified biblical life coach, writer and speaker with a passion for encouraging and equipping women to find their passion and purpose. She is also a single, homeschooling mom of two boys. You can find LaToya blogging about homeschooling, parenting and learning to find God's purpose and plan in broken circumstances at www.LaToyaEdwards.net .