For many homeschooling families, taking an overseas missions trip with a child (or several children) sounds utterly impossible. "How could our family afford it?" "How could we take that much time off work?" "How is it possible to travel with kids?" "But what about our homeschooling?"
These are all legitimate questions, but more importantly, why not ask, Dear Lord, would You ever want our family (or me, or one or my children, or a group from our homeschooling community, or a team from our church) to go on a mission outreach?
If God answers, "Yes," then the only legitimate questions to ask are When? and Where? and, in faith, Well, Lord, then how do You want us to obey?
Instead of responding with fear and doubt like Zacharias (Luke 1:18), have a willing heart like Mary (Luke 1:38), when she said, "Let it be to me according to Your word. If God calls you or our child to missionary work, He will open the way for you, and He will provide more than enough of His grace and provision.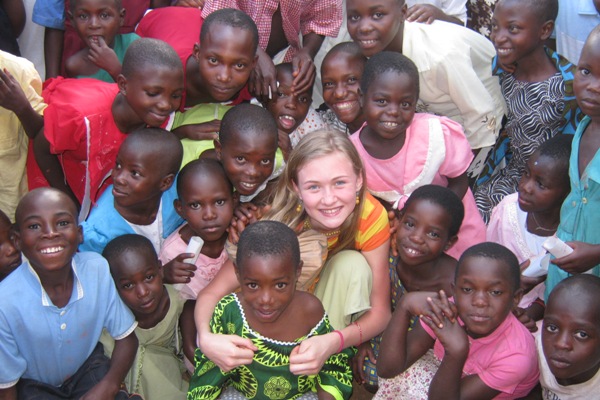 Different Family Mission Trip Possibilities
For over 20 years, our family has been actively HOMESCHOOLING (with a focus on Teaching With a Heart for the World) and GOING (with a focus on the needs of international evangelism and orphans through Harvest Ministry); but the specifics haven't always looked the same.
Sometimes our entire family goes on mission outreaches together. Other times my husband goes by himself or takes one of our older children. We've gone on missions together as a couple or as a couple with a nursing baby and a few other children. (We've been blessed to have the option of godly parents, homeschooling relatives, and friends who have helped to care for our children while we minister overseas on short-term trips.) Each time God calls us to a specific outreach, we pray and seek His will for that particular mission trip . . . and then we obey!
Just last month, our 12-year-old daughter Caela and I went on an exciting mission to Uganda, to minister at a village women's conference and to check-up on over 700 precious orphan children at our ministry's two orphanages. In mid-April, my husband will go with our high school son Daniel, a homeschooling senior, on a remote outreach to another area in East Africa. It's exciting!!! (And an added benefit is that world missions is a great way for homeschooling teenagers to get involved with community service!!!)
You may want to consider accompanying a younger child on a short-term children's mission outreach, such as YWAM King's Kids or a Teen Mania outreach for Juniors (preteens). If your child has a heart for missions, take seriously God's calling for you as a homeschooling parent to nurture your child's desire and to adequately train and equip your child for this possibly. Let's encourage our children to pray regularly for world needs and to learn all they can about world missions.
If you have a high school or college student interested in missions, encourage him or her to check out short-term opportunities with mission organizations such as YWAM, Global Expeditions with Teen Mania, Teen Missions International, Master's Commission or through your own church or denomination.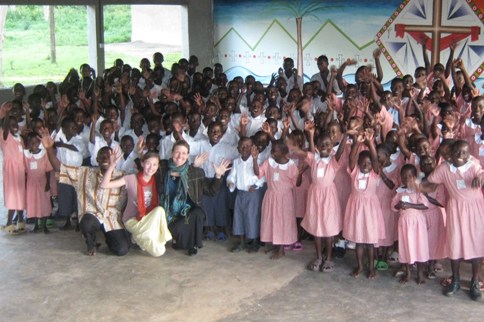 If you have a larger family, here are a few additional ideas. Perhaps Mom and Dad can go together on a mission trip (and perhaps enjoy a second honeymoon before or after the mission outreach) while the kids enjoy a few weeks at Grandma's. Or you can all work together (praying, seeking God, and raising support) to send one parent or teenager on a short-term outreach. You can even establish a new family tradition: when each child reaches a certain age (e.g., sixteen or eighteen), you will present that teenager with an airline ticket for a summer mission trip.
Traveling with Young Children
When traveling with children, put together a small backpack for each child with activity books, art supplies, reading materials, small toys, and a few snacks.
If you are traveling with a ministry team of with a large family, assign each person a partner to help keep track of everyone.
When spending an extended time in an international airport, look for a nursery or a children's play area Many major airports even provide cribs for little ones to sleep.
In order to alleviate the effects of increased air pressure, attempt to nurse or bottle-feed your baby during takeoff and landing. Don't feed your baby for a while beforehand, so that he or she will be a little hungry when the plane is taking off. God young children, sucking on a piece of candy or chewing gum will help.
While traveling, watch for people with whom you can share Jesus Christ. You and your children can meet people from all over the world in an international airport, many with nothing to do as they wait for their flight. Be prepared to witness by packing small New Testaments, gospel tracks, or an EvangeCube (a witnessing tool) in your carry-on luggage.
Homeschooling and Missions
Schooling is a major challenge and expense for many missionary families. For homeschooling families, however, your children's education can continue nearly the same as before. If God is calling your family to missions, He will direct you and provide all your needs.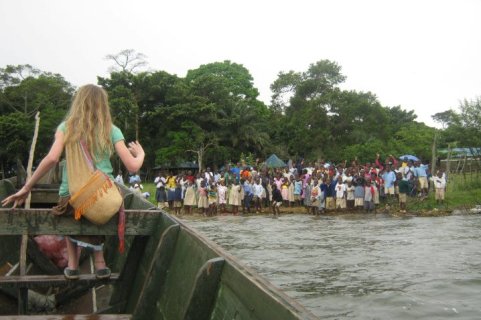 Homeschooling on a Short-term Mission Trip
If taking a short-term mission trip, immerse yourself and your children in the culture you are reaching to make the most of our outreach.
When our children travel overseas on short-term outreaches (for two or three weeks), they usually leave behind all of their regular schoolwork, other than their Bible and journal, in order to have time for all there is to learn and enjoy.
Have your children compare their experiences to typical life back home. Taste the local food. Attempt to communicate in the local language. Watch unique characteristics of the people. Learn about the local geography, arts, and technology (or lack of it). Note different animals, birds, and plant life. Soak in the sights, smells, and sounds; and enjoy your time of ministry. This of it as an extended field trip and an exciting cross-cultural experience.
Homeschooling on a Long-term Outreach
When living among another people group for an extended time, you and your children will need to develop a routine for regular school subjects.
Instead of isolating your children, encourage them to play with nationals and to learn their language. A child can often learn a foreign language by exposure alone.
Most likely you will not have access to resources found in a quality library. A solution to this challenge is to acquire a good supply of CD reference tools and educational DVDs. Get a laptop that can connect to a car battery, enabling you child to access important reference information anywhere in the world–even when Internet access is unavailable.
Begin to build your own library or work with other missionary families to build an educational library. Perhaps your church, mission partners, or a local school group from home could specifically support you in the area of your schooling. they can help you with challenges, send interesting Internet links or encouraging care packages, or simply be available (through e-mail, facebook, skype, or traditional mail) to assist your educational endeavors.
There is no perfect time to step out into missionary work. At every stage in life there will always be challenges to overcome and barriers to cross. No matter what your current situation, God can make a way for you. He does not expect you to use what you don't have; He simply expects you to love and serve Him with what you do have. As you obey the Lord, step by step, He will multiply your gifts and talents for His purposes. It is not about dong things for God, but being with God: living in His presence, hearing His voice and direction, and being available to serve him — through His strengths and gifts, not your own.
Homeschooling and missions fit together perfectly. You have the flexibility to travel, and your children can be involved in ministry. You can do it.
(Note: This article was adapted from Ann's newest book, The Mission-Minded Family – Releasing Your Family to God's Destiny. Click here to download a FREE sample.)
Ann Dunagan is a longtime homeschool mother of 7 (with 3 graduates). Since 1987, she and her husband Jon have ministered worldwide with Harvest Ministry. Ann is co-founder of two African orphanages, writer for "Better Parents, Better Families" on the Christian Post and "The Missional Mind" with Biblica, and author of several books including The Mission-Minded Family.